Using our Customer Portal
You can lodge a claim online or via our Customer Portal. Let us know if you need any assistance.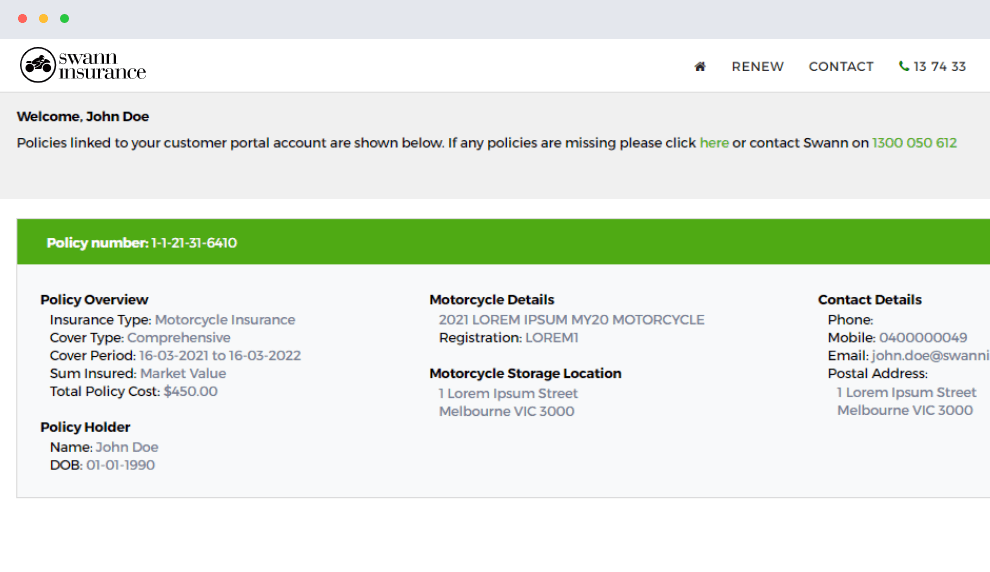 Make sure you have all your details ready
In order to process your claim quickly, have all the relevant details regarding the incident ready before you begin. This information includes:
the date, time and location of the incident, as well as a detailed description of what happened;
if other parties were involved, their name and contact details.
Customer Portal Login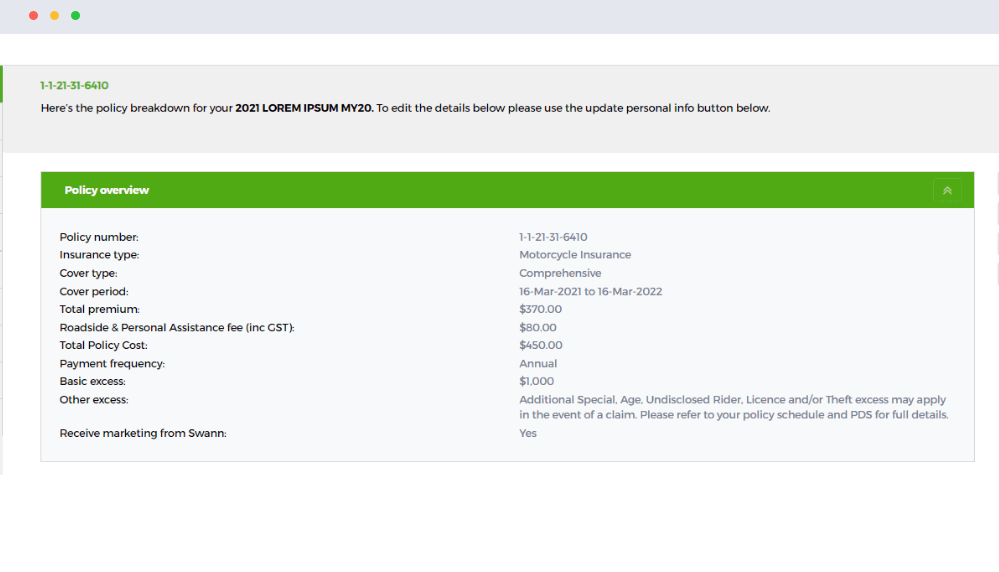 Check your Policy Details
After logging in to the Customer Portal, check that all your insurance details are correct, such as:
your personal details (name, address and phone number);
and verification of your policy details (such as cover type, inclusions and exclusions, period of cover, excess).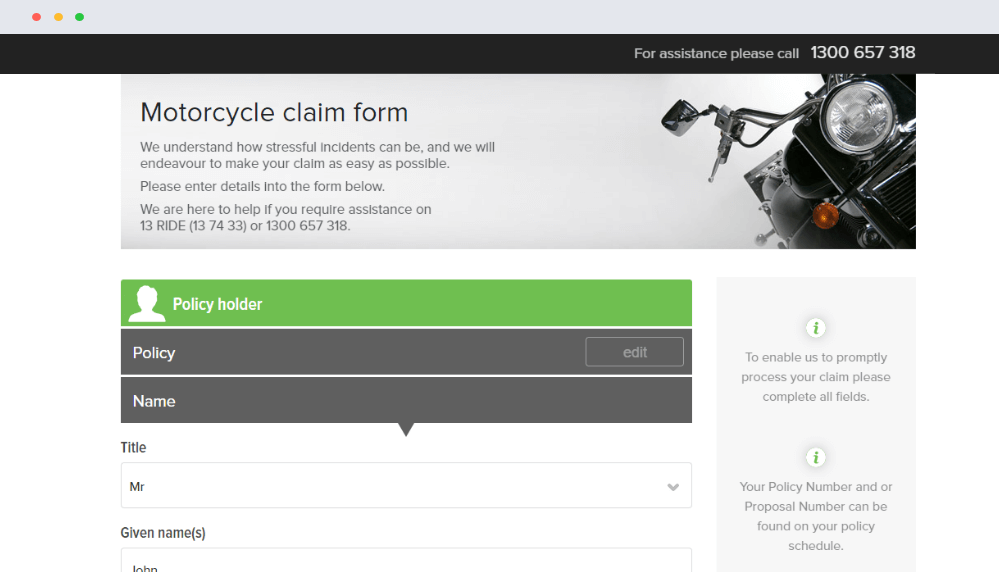 Fill out your Claim Form
Once you've confirmed the above details, it's time to fill out your claim form. Some of the details you'll need to know are:
the personal history of the insured (such as whether you've had any at-fault claims in the past five years or have had your drivers/riders licence suspended);
the registered owner of the vehicle involved in the claim;
in-depth details about the incident;
the police report and reports from any witnesses (if available);
information on any damage to your vehicle (including photos if available).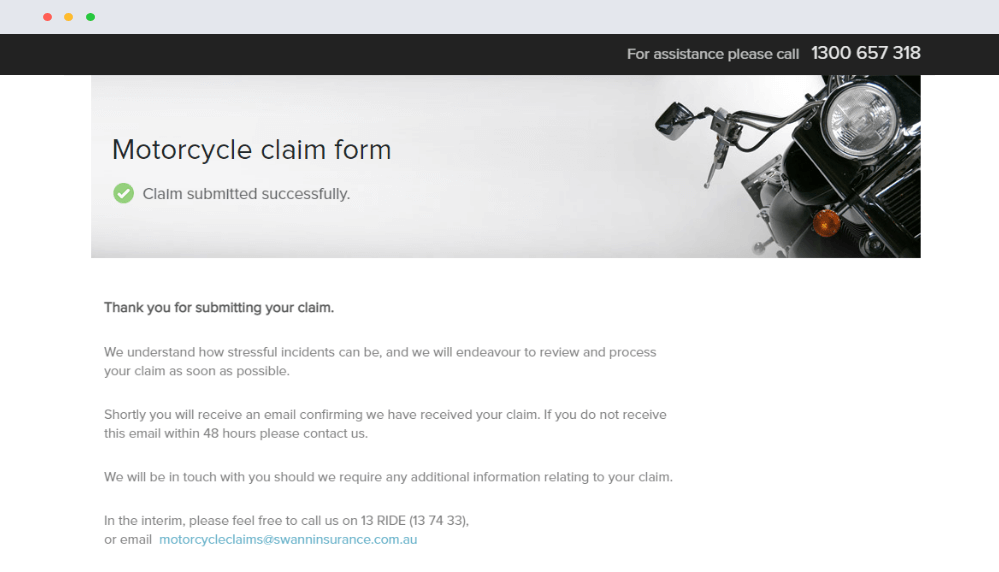 Receive Claim Lodgement Number (48 hours)
After you submit your claim, you will receive a Claim Lodgement Number, which will help you keep track of the progress of your claim if you need to contact us.
What happens when I make a claim?
We will confirm receipt of your claim, at which point you will be allocated a claim number. We understand that you want your claim resolved as quickly as possible. We will assess your claim in order to see whether it can be accepted, and a benefit payment made. You will be contacted for the initial assessment of your claim within 48 hours excluding weekends or Public Holidays.
A Claim Consultant will contact you to discuss your claim and may request further information to validate your claim. We may also require other documentation or statutory declarations from you depending on the circumstance of your claim. Where this is required, we will ask for it.
You must provide all relevant information requested to assist us with processing your claim.
How long will it take to process my claim?
Every claim is different, but our aim is always to process your claim as quickly as we can. Although some claims can be processed at first contact or in a relatively short time, other more complex claims may take us some time to work through the details.
Please contact your Swann claims consultant for progress updates on your claim. Remember, the more information you give to us when you initiate the claim, the quicker we will be able to process it.
If I make an insurance claim, what will my excess be?
All excesses that may be applicable to your claim are clearly specified on your insurance policy schedule, and the details of how and when they may or may not apply is explained in your policy wording.
You will only be required to pay your excess if you are deemed the party at fault in your accident.
Can I choose my own repairer?
You can suggest a repairer, or we can suggest one for you.
For all damaged vehicles, we will require a quote for the estimated cost of repairs from your repairer.
If for any reason we do not accept your choice of repairer, you must still cooperate with us to select another repairer, who has the necessary qualifications, skills and equipment to undertake the repairs, that we both agree on.
What happens if my motorcycle or scooter can't be repaired?
If there's considerable damage to your motorcycle or scooter or the repairs cost more than its value, your motorcycle or scooter may be written off (also known as a 'total loss').
If your motorcycle is a Total loss we will either Replace it under the conditions stipulated in your policy wording under 'New Motorcycle Replacement', or we will pay you the Agreed or Market value, whichever is shown on your policy schedule, minus any applicable excess and outstanding premium.
Once declared a total loss the motorcycle, including any accessory or modification becomes our property. This insurance will cease and no refund of any remaining Premium will be available.
If your Motorcycle has non-standard number plates, we will allow you to retain them.
The amount we pay you and deductions that apply will be different based on the level of cover you chose.
We understand that a total loss claim can be unexpected. We'll explain all these steps in detail if we settle your claim this way.
Do I get a hire car?
If your motorcycle is stolen, we will reimburse you the cost of hiring a car for up to 15 days when you select Comprehensive Cover. (maximum benefit of $100 per day)
Please check your policy wording to check if you have hire car included on your policy.
What happens to My No Claim bonus when I make a Claim?
If your vehicle is involved in an accident, your no claim bonus rating will not be effected if, we are satisfied that you were not at fault for the accident occurring and you can provide us with the name, registration number and current address of the person who caused the accident.
Note, to determine whether or not you, your driver, a passenger on your motorcycle or someone else was to blame for the accident we may request additional information to that listed above.
If your vehicle is in an accident, that involved no other parties or you are considered the party at fault for the accident occurring this will decrease your level of No claim bonus when you are provided your next renewal.
The only time your No claim bonus may not be impacted after an at fault claim is if you have selected the optional additional benefit of No claim bonus protection and this is reflected on your policy schedule.
For further information please consult your Policy wording or contact us on 137433.
What if I'm not happy with the way my claim is progressing?
Step 1: Talk to us first
If you have a complaint, speak with the claim's consultant managing your claim. If they are unable to resolve the matter to your satisfaction, your complaint will be referred to a manager who will review it and respond to you. The response will usually be provided within 15 business days from when you made your complaint to the manager.
Step 2: Seek a review
If the manager cannot resolve your complaint you can request the complaint be referred to an internal dispute resolution officer (DRO), the DRO will treat your complaint as a dispute, they will conduct a review of your dispute and provide you with a decision, usually within 15 business days . If you do not agree with the DRO's decision, you may wish to seek an external review of the decision.
Step 3: Seek an external review
The DOR's letter outlining their decision will provide you with information on the external review option(s) available to you including, if appropriate, referring you to the external dispute resolution scheme administered by the Australian Financial Complaints Authority (AFCA).
Please feel free to ask your claims consultant for more information about our complaint and dispute resolution procedures.