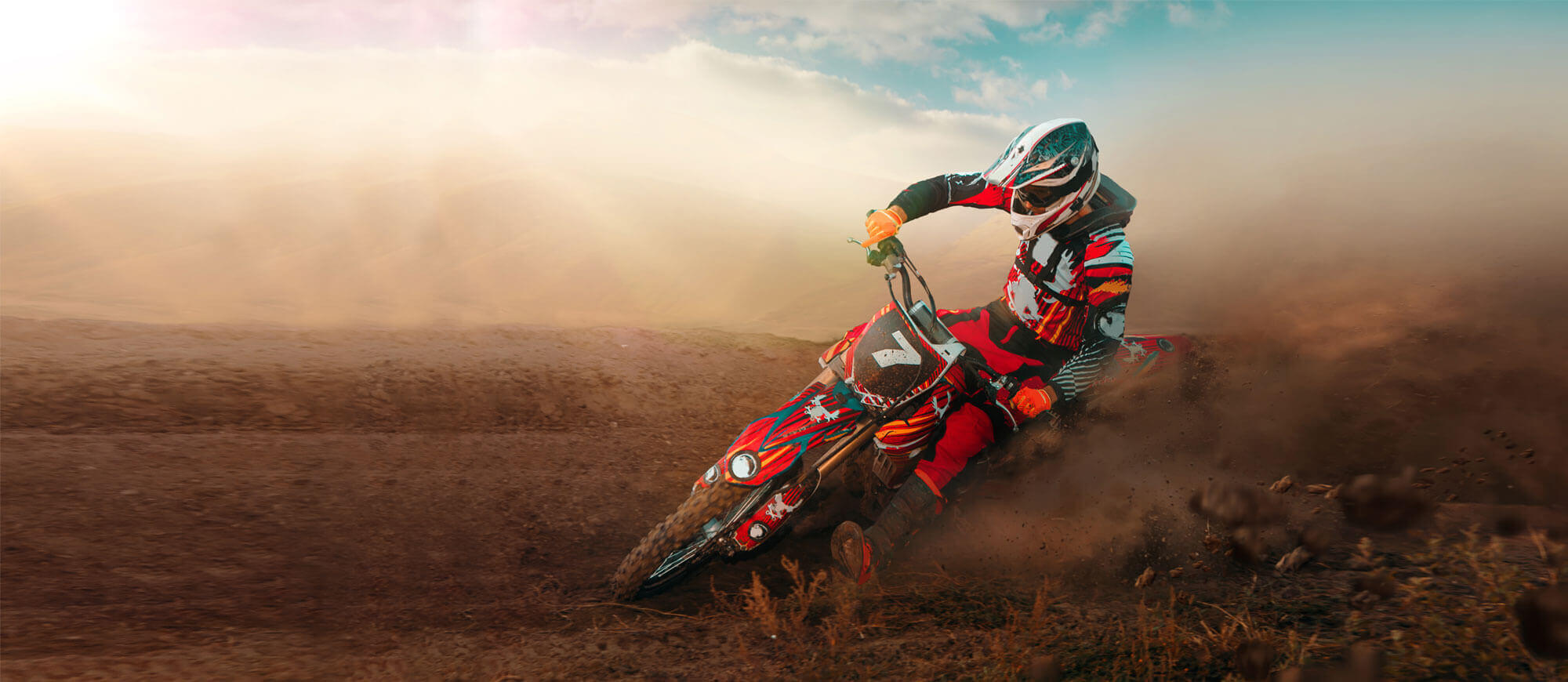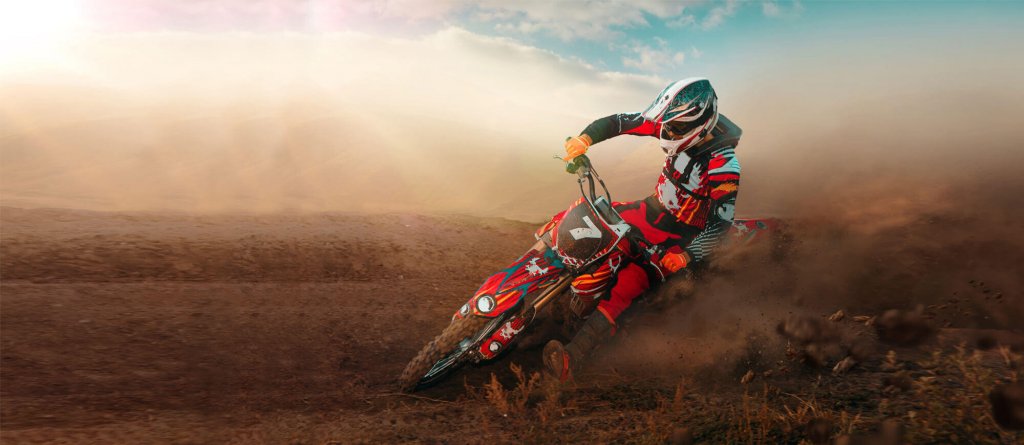 Dirt bike gear
So you've taken up dirt bike riding, but realise riding in a tracksuit doesn't cut the mustard out in the bush. Think about it—speeding through bushland can come with close calls with branches and rocks. The gear you're wearing if you come off your bike can mean the difference between a few scuff marks on your clothing, or more serious injury.
It's wise to equip yourself with sturdy riding pants, a protective jersey or jacket, and the essentials—helmet, goggles and gloves. You can add extras for protection, like knee and elbow guards, a roost guard or full coverage chest protector. Dirtbike boots specifically designed to help protect the feet are a must, and you can even get a neck brace if you're extra cautious.
The range of apparel for dirt bike riders is vast, so you'll have no problems finding the gear you need. The biggest hurdle will be choosing out of all the options. To help you out, here are some popular brands you might find on the shelves, or online.
Fox Racing
If you've visited a bike store in Australia, you've seen Fox Racing products on the shelves. A favourite amongst Australian riders, Fox offers it all from individual dirt bike apparel pieces like jerseys and pants, to full sets of gear. Their designs range from space-age looking outfits that make you look like you're about to step onto the moon, to funky animal prints and even camouflage. If you like to ride more low key, Fox also offers riding gear that passes for streetwear. Like we said, they offer it all. Ride wild with the Flexair Zebra pant, or take a ride back to the 80s with the Vi Gama Helmet. (Looking for an Australian stockist? Check this out.)
O'Neal
A staple in any rider's wardrobe for over 50 years, O'Neal offers you a look that will make you feel confident on your bike. Whether you're looking for a subtle option or gear that will make you stand out from the crowd, O'Neal offers it all. Choose from eclectic coloured gear, gloves, helmets and boots, or for a cool monotone set, including goggles! Make waves in this navy & yellow Hardwear Reflexx and get the most out of your performance in the toned down Mayhem-Lite Hexx. There's an option for everyone!
Oakley
Oakley focuses on all kinds of activewear. While they have a great selection of dirt bike & motocross goggles, Oakley is the place to go to when you're looking for some first-class street-to-bike wear. Protect your eyes from the environment with these futuristic Front Line MX goggles, and build out your wardrobe with their warm and cozy jackets, hoodies, and pants, perfect for layering under your dirt bike gear in the rainy Autumn weather!
Motorbike Gear
Whether riding on city or country roads, it's essential to wear decent protective gear. While some road riding gear is mandatory (helmets), other gear is plain sensible. You're sharing the road with other riders and drivers, and can't always be sure what they're going to do. It's essential to be protected, as even at slow speeds, coming off your bike on bitumen will definitely leave a mark.
To protect yourself when riding on the roads, ensure you wear a decent motorbike helmet, some purpose fit riding boots, and protective riding apparel covering as much of your body as possible. That means a riding jacket with elbow padding, riding pants with knee padding, and gloves.
Thankfully, most motorbike riding clothing brands popular in Australia take weather conditions into account, and usually have some way to adjust the item according to temperature. Many are made from fabrics that are both breathable and waterproof, and some have detachable thermal liners you can keep attached for winter riding, and remove in summer.
There's an enormous range of motorbike apparel in Australia, whether you go instore or online. It's not necessarily cheap, but it's an essential component of your riding life, so invest in good apparel before you jump on your bike.
Here are some popular brands.
DriRider
DriRider provides a range of all-weather riding gear. You can get jackets that adjust for all seasons, like the Vortex Adventure jacket, with a three-layer system that lets you configure the jacket to suit all weather conditions, and its matching Vortex Adventure 2 pant with lower leg adjustment & over the boot cut. If you like a more casual look, you could go for the Rapid Jean riding pant— a motorbike pant disguised as a pair of jeans, replete with knee and hip armour.
Alpinestars
Alpinestars focus on the latest motorcycle riding technology to create their riding apparel. They cover the whole range of necessary gear, from jackets, pants, gloves, footwear, protection and tech layers, with some interesting inclusions. Check out the very incognito Touring Winter Balaclava or the cool-in-summer Ride Tech Summer 1-Piece Undersuit. (Looking for an Australian stockist? Check this out.)
Roland Sands
Roland Sands provides the optimum selection of riding gear and casual wear for every motorbike rider. Get ready in their iconic men's and women's leather motorbike jackets and top it off with a protective helmet, such as their RSD X Bell Race Star Flex DLX The Zone Helmet. Looking for a way to make your gear more unique and true to your own style? With Roland Sands' pins and patches you'll be able to customise your look any way you want. (Looking for an Australian stockist? Check this out.)
Triumph
Triumph Motorcycle gear prepares you for those long road trips out in the country. If you're looking for jackets, pants, and jumpers that will keep you warm, look no further. They even have a cold weather collection so you can make the most out of your time out on the road. Triumph offers a wide variety of classic jackets, such as the Fraser Casual Leather Jacket, and even have riding jeans so you can go from a bike ride to meeting up with friends, always looking your best.
This list is far from exhaustive (we didn't even get to Harley Davidson). Get yourself to a motorbike store or online to trawl the ranges out there and find the right gear for you. If you are looking for any type of Insurance for Dirt bikes, motorbikes, or scooters , we've got you covered.